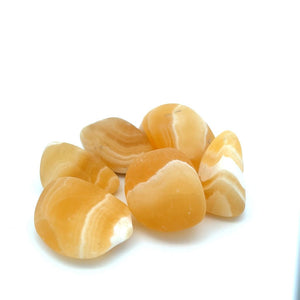 It's a stone that will connect you to your own spirit guides. It will enhance your meditation and stimulate your higher mind, which will link you to the most wonderful spiritual guidance.
It will enhance your overall physical energy in a gentle manner and increase your strength and vitality.
It will heal your sorrow and grief, and it will even lift you out of your depression.
This stone will clear your mind and help you access your inner wisdom.
It will also give you comfort and reassurance when you're going through tough times in your life.
Yellow Calcite will also work on the stagnant energies in your life and break you out of your rut. It will remove the sluggishness and will boost your sense of self-worth.
It's a very uplifting stone that will bring about deep relaxation.
It's also the perfect stone for meditation, channeling, shamanic work, and psychic exploration.
Yellow Calcite is powerful energy cleanser.
It will purify and remove toxins in your environment and in your aura, and it will increase the positive energies present!
Yellow Calcite is a very lucky stone because it can attract prosperity, abundance, and positive blessings into your life.
The energies of this stone will bring a multitude of wonderful possibilities!