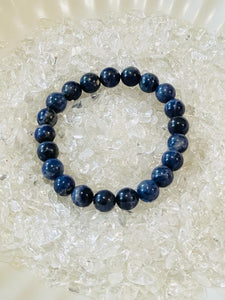 Sodalite crystal is associated with Sagittarius.
The planet association is the moon. Due to its incredible hue from its deep blue color, this crystal is paired with the elements of water and air. 
The metaphysical properties of this stone are primarily its ability to provide you with the power to communicate effectively.
It enhances your ability to speak the truth of your emotions, follow your intuition, to allow you to be objective, and it encourages rational thoughts.
It is able to reduce panic attacks, and to enhance your ability to express yourself.