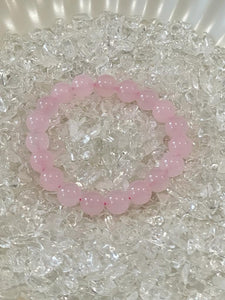 Rose quartz is known as the crystal of unconditional love.
It's said to boost feelings of self love and foster loving relationships with others.
The Rose Quartz stone is strongly attached to both the heart chakra and the throat chakra.
 But it's not a stone that simply rests in romance. Rose Quartz speaks softly to all kinds of love; from healing communication with family to developing a deeper bond with spouses and friends, and even bringing sweeter notes of self-care into your own world
Along with working wonders when it comes to soulful healing, Rose Quartz boasts beautiful healing properties for the body too.
In keeping with its theme of being a heart healer, Rose Quartz can help to prevent thrombosis and heart attacks, improve the circulatory system, and ensure that your heart muscles are as smooth and strong as possible.