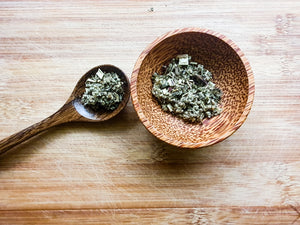 Mugwort has been used by magickal practitioners for ages as a dream associative & enhancing psychic skills.
It calms the energy of a person, especially when ingested as a tea & helps to awaken the Third Eye, aiding in deeper subconscious travel & spirit world communications.
It enhances dreamwork, helping one to better recall dreams for journaling & deciphering messages.  When burned as an incense at Samhain, it works as an offering to call upon the Ancestors, Creating a stronger bond between the thin veil of the physical world & spirit world.
Mugwort is an important herb to incorporate into practice, when one is trying to awaken their psychic senses & evolve spiritually.   
Magickal Tip: Add a pinch of Mugwort to your Divination tools when in safe keeping to keep their energy & aura protected, strong & enchanted.  You can make a tincture of Mugwort, adding other clairvoyant crystals to the mix, and using the tincture as a consecration wash for your divination tools, to enhance their metaphysical powers & become a stronger aid in clairvoyant practices.
Holistic Uses: A tea of mugwort can aid in sleep & dream recall. It can be added to massage oil or bathwater to calm anxieties & insomnia. Freshly crushed Mugwort leaves, can be added to scratches, burns or cuts to alleviate skin irritations.