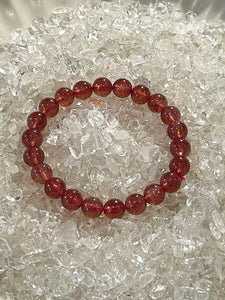 The strawberry quartz is known to be very calming and soothing.
It might not be as well-known as some other crystals with powers that range from influencing emotions to protection.
But strawberry quartz has its own special powers as well.
It's known as a stone to help you understand your own feelings and those of other people; it will help to lighten up painful emotions and bring love back into your life.
Strawberry quartz is a wonderful stone for those who are looking to develop their psychic abilities. It's also a great stone for anyone who is interested in exploring the spiritual realm and expanding their consciousness.
If you're a beginner, strawberry quartz can help with your connection to spirit as well as protect you from negative energies that might interfere with the process.
As a stone of self-love and understanding, Strawberry Quartz will encourage you to be your best and most authentic self.
It's a wonderful stone for those who don't feel like they're entirely understood by other people. Strawberry quartz will help you come out of the shadows and allow others to see what makes you unique and beautiful!
Even though Strawberry Quartz is a beautiful pink color, the meaning of strawberry quartz is all about red.
The strawberry quartz represents life and growth, passion and sexuality, love and affection.
It can also symbolize a mother's nurturing abilities--and it's no coincidence that strawberry quartz is often given to expectant mothers!
No wonder this stone has been considered a gem of happiness and good fortune.