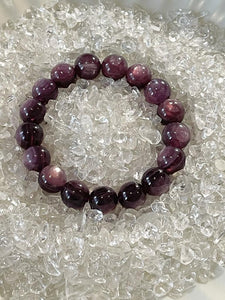 Gemmy lepidolite bracelet with energy.
Lepidolite restore emotional balance and thus promote harmony in both your inner being and your external world. 
The Lepidolite crystal is commonly referred to as "the stone of transition" and there is a good reason for this.
It assists in the releasing of stagnant negative energies and behaviours that are no longer serving you while encouraging the ushering in of change-inducing practices.
In essence, it breaks harmful psychological patterns and forms new and uplifting ones.
This allows for a deep reset that in turn, encourages emotional healing and stability.
The Lepidolite stone activates the third eye and the heart chakras.
It open up and revitalise the crown chakra by clearing away blockages that might be holding you back in your journey of self-improvement by disconnecting you from the divine as well as your inner truth.