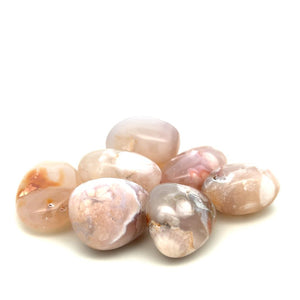 Flower Agate is well known for its wealth of healing properties. As a stone of manifestation, this pink-hued beauty is a great ally to those attracted to the idea of promoting courage, spontaneity, and joy.
More than that, Flower Agate can also encourage you to reach your full potential.
Flower Agate focuses more on your emotional and spiritual needs. However, the stone's impact on your feelings and emotions can also positively affect your body. 
It helps you control your emotions and can be used as a new coping strategy. 
Flower Agate brings a deep sense of calm, helping you release muscle tension.
It will stabilize your mood so that you can sleep better. 
Strongly connected to the Heart chakra, Flower Agate is often used to promote spontaneity and joy.
You can wear it daily to bring positivity into your life.