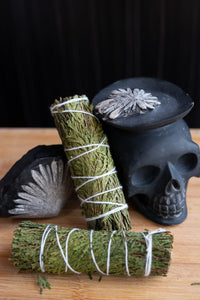 Cedar is a medicine of protection.
Cedar trees are very old, wise and powerful spirits.
Cedar is often used to cleanse a home or apartment when first moving in, inviting unwanted spirits to leave and protecting a person, place or object from unwanted influences.
Cedar is used as a name for a number of different genuses of trees and shrubs.
The primary ones are Cedrus, Thuja, Libdocedrus and Juniperus.
The Junipers are not truly Cedars (scientifically) but are used as such by many people. Keep in mind that these scientific names have little meaning to the people using them as medicine in traditional ways.