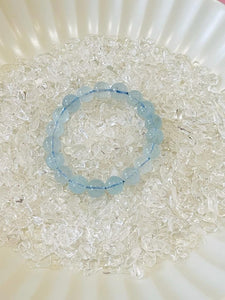 Aquamarine crystal is closely associated with the oceans and mermaids.
Sailors of ancient times believed that aquamarine would make them fearless and safe from any danger while out on the big, vast ocean.
It brings peace, harmony, and emotional stability, renewing a sense of trust and courage.
This gemstone can help dissolve feelings of fear or anxiety while encouraging creative expression.
Aquamarine often symbolizes youthfulness, hope, health, and everlasting love, making it the perfect gift for any special occasion.
It is also believed to have healing properties to help with calming nerves and relieving stress.