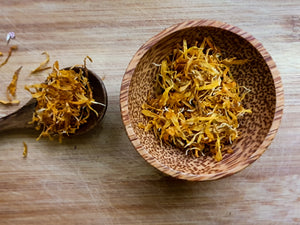 Being one of the easiest to grow medicinal herbs, Calendula / marigold, teaches us that life doesn't need to be so difficult & we can still flourish in abundance.
A symbol of the Sun, The Calendula flower is  also the traditional "he loves me, he loves me not," flower used in Love spell divination.
It's sun like energy, tends to shine light onto a situation, specifically favoring legal matters, love matters or intents of healing.
Magickal uses: Sun Energy, Healing, Strength, Love, Marriage, Stability, Consecration, Legal Matters, Dreamwork, Spiritual Growth.
Tip: Toss Calendula into a fire during Summer Solstice to illuminate your spiritual journey
ELEMENTS: FIRE
PLANETS: SUN
CHAKRAS : Solar Plexus (3rd)
Magickal Tip: Place some petals in a jar of Olive or Sunflower oil, to create a consecration oil, which can be used to bring a certain intent into positive vibrations.
Holistic & Medicinal: Calendula / Marigold are edible flowers that are often used in soups, teas or other beverages, it can also be used in lotions, oils or salves to help relieve rashes, burns, keep the skin smooth  & many other uses in the form of Healings, as seen throughout Ancient Egypt & even during the American Civil War.